Well this ended up going in a totally different direction thanks to an amazing find from Miss Pomp.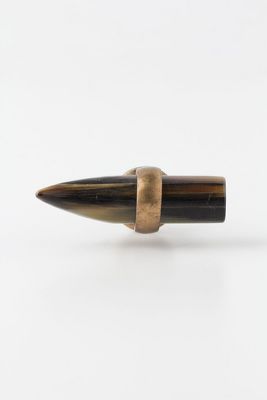 She found these on sale for under 3 bucks at Anthropologie. They are super similar to the original ones that I was pipe-dreaming about for my Hemnes Dresser. I liked these horn beauties better then the other ones I had bought, so bye-bye to those. Annnnnnddddd, I also found one of these in a basket at an Anthropologie store for under 3 bucks-
How sweet are those?? So I ditched those knobs I had in my My Knobs basket, and went for those amaze-balls folded over gilded square ones, because though I only found one in the store, they were able to order me the other 7 I needed from other stores. So this is the end result-

You can see in the last picture I started painting my bedroom. I'm going about it all ghetto style this time because I only have short bursts of time over the next few weeks. So, I completely painted 5 of the 7 walls, 2 coats and all, and put everything back, so my whole room isn't completely tore-up for 3 weeks. It's just half painted. Not the best way to paint a room, but, oh well.