Alright, though there have been more exciting times in the land of Miss C as far as projects go, we're going to play catch up on the little things that have been happening because I'm assuming, just like Us Weekly's "There Just Like Us" section, we all like little glimpses into the mundane.  Here's a state of the union-
1. My Junk Drawer Now Looks Like This-
I've been wanting to do this for soooooo long!
2. I Make Green Juice Now-
I know….stop the presses. We've owned a juicer for many many years, but never used it. So I started, and I gotta say I like it. Super easy, a bit of a pain to wash the machine, but it tastes really good and is the only way I will eat that many veggies in a day.
I now include a bit more veggies than this, but that much stuff makes this much juice-
It doesn't look like much in the picture, but it's about half full, 16 oz. The key ingredient is the lime BTW….as far as taste goes anyways. Adds that some'in some'in.
3. Trading out the knobs in my Ikea dresser for fancy pants brass ones-
I've had this classic Hemnes dresser for like 7 years. I got these horn knobs from Anthropologie  for the top 4 drawers-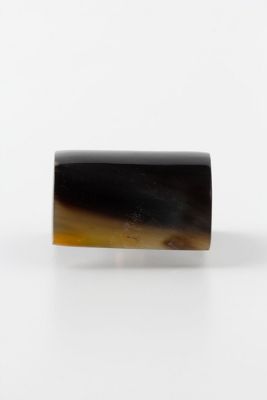 They were only $3, so for now they will be good while I wait for the ones I really want to go on sale, for like,mmmmmm, 4 bucks-
So for the bottom 16 knobs of the dresser, I've been looking at these and trying to pick one. I don't want it to be too shiny or perfectly new looking, and just the right shade of brass. I will probably have to order one of each to decide. Ugh. I hate paying shipping.
That's a screen shot of my shopping cart at My Knobs. Anyone else a true 4th grade boy at heart if ya know what I mean?
4. Lastly, I'm going to be painting my room again
This is a shot from my Instagram of the paint patch tests. My husband literally walked around the corner and stopped dead in his tracks and said "what the??". That may or may not be because it will be the 4th time I've painted our room. It's currently pale grey, which I love (duh), but I want something a little warmer and a little lighter and brighter. I'm going with a very pale peach/pink. It will go with everything I already have in there, which has NEVER happened.
It's actually a lot lighter and more subtle then that image would lead you to believe. Don't panic.