I get a lot of questions about how to pack when going on an extended trip. The trouble with traveling for 6 weeks at a time is that you can't take 6 suitcases with you. Especially if you will be travelling to multiple destinations. It's not so much of a problem if you will be travelling to 1 or 2 destinations and staying at each one for an extended amount of time. However, if like husband and I you travelled for 6 weeks as follows: California -> Nashville -> Nice -> Barcelona -> London -> Paris -> The Cinque Terre -> Lucca -> Sorrento -> Positano -> Rome -> California, you bet your buttuci you will want to have packed as light as possible.
My general rule for packing for extended trips is to bring a few options in each category that pretty much all go together.
(Black Maxi – Anthropologie, Leopard Shift – J. Crew, Trench – Cartonnier via Anthropologie, Leather Jacket – Anthropologie, White Tee – J. Crew, Blouse – Konrad & Joseph via Anthropologie, Chambray Shirt – Madewell, Striped Long-sleeve – Anthropologie, White Blouse – Equipment, Boots – Frye, Sandals – Sam Edelman, Leopard Flats – J. Crew, Bag – J. Crew Brompton Hobo, Cuffs – Anthropologie, Watch – Marc by Marc Jacobs, Black Skinnies – AG, Jean Shorts – Madewell, Jeans – Pilcro)
Depending on the season I might swap out a couple things, for instance – If I'm going in spring or summer, I swap the black jeans for white ones, and pack some more cotton and warm weather items.
Once I have a good base of "Everything goes with everything" pieces, I add in a couple of fun and colorful items so things don't feel too boring or monotonous. ie: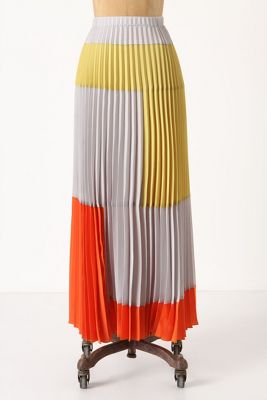 The last thing I do is pack doubles of a couple of items (like the white v-neck, or a couple white tank tops) that I know I will use a lot, so that I don't have to do laundry quite as often.
And don't forget to use an online travel checklist specific to the place you're going. A good one for travel in Europe can be found here. You don't have to stick to it like it's your last lifeline, but checking against a list like this can be helpful to make sure you're not missing anything important.
Any questions?  What am I missing? Help me out here, folks!